How Phelix automates workflows alongside the EMR
Product Resources Jun 24, 2023
This is part 1 of a 4 part series on how Phelix's industry leading AI and automation platform can extend your EMR, with minimal disruption to existing workflows.
The Rise of Administrative Burden in Healthcare
Over the last 50 years, the healthcare industry has undergone a transformation with the implementation of Electronic Medical Records (EMR) systems into everyday workflows. The adoption of EMRs has brought numerous benefits, including digitizing patient records, appointments, and billing workflows. As with many new technologies however, it has brought on a new set of challenges. Many parts of the clinic workflow remain repetitive, manual, and burdensome for clinic staff, and now often involve navigating bulky and non-intuitive interfaces within the EMR. As health systems have grown and become more fragmented, so has the admin burden and the healthcare delivery costs needed to support it.
Admin burden is a vast and complex problem for clinic staff – it encompasses a range of activities and tasks with constant context switching, such as: data entry, triaging faxes and inbox, answering phone calls, scheduling, registering and checking in patients, documenting encounters, ordering referrals and tests, and lots more.
In some ways, care providers, admin staff, and patients collectively end up as 'routers' behind every fax line, phone call, EMR, web portal, or app, inefficiently exchanging information and struggling to connect the dots at each step in care delivery workflows.
Not only does admin burden increase costs, but is now has become a leading cause of burnout and staff turnover, all the while impeding the ability of healthcare providers to focus on patient needs. To put it simply – reducing admin burden is crucial for streamlining care delivery, optimizing the allocation of resources, and for improving patient care and outcomes.
Differentiation is a part of the Phelix DNA
With compounding fragmentation and the challenges associated with adoption of interoperability standards and frameworks – we believe in the following 2 core principles when it comes to healthcare innovation and change:
1) We believe it's faster to automate around the edges of existing EMR and practice management silo's, as opposed to driving the adoption of new platforms, portals, or apps.
2) Although AI and automation can connect the dots with minimal disruption to existing workflows and behaviour, we will ultimately need to rebuild the current EMR stack on top of API and event driven interfaces – to enable secure, connected, and intelligent health systems of the future.

How Phelix automates and extends your EMR
Phelix is an AI powered automation platform that alleviates admin burden and connects healthcare workflows across the patient journey – including faxes, phone calls, SMS, email, scheduling, tasks, prior auth, registration, payments, check-in and more! We're able to save over 75% of staff time spent on repetitive healthcare tasks, while moving the needle on access, turnaround, and satisfaction metrics.
The platform consists of 3 modular but inter-connected products:
1) Inbox and Fax Assistant
Industry leading AI for triaging and processing incoming faxes, messages, referrals, e-mails, records, reports and more
2) Virtual Agent & Chatbot
AI powered phone or website agent to automate bookings, deliver SMS messages, create tasks, capture notes, FAQ's, surveys, and more
3) Protocoling & Journey Automation
No-code interfaces to design and deploy reminder, form, booking, intake, and post visit journeys, including marketing style campaigns – with more control than any tool on the market
In the remaining parts of this series, we will be covering each of these products in detail. Visit phelix.ai to learn more in the meantime. Stay tuned!
You might also like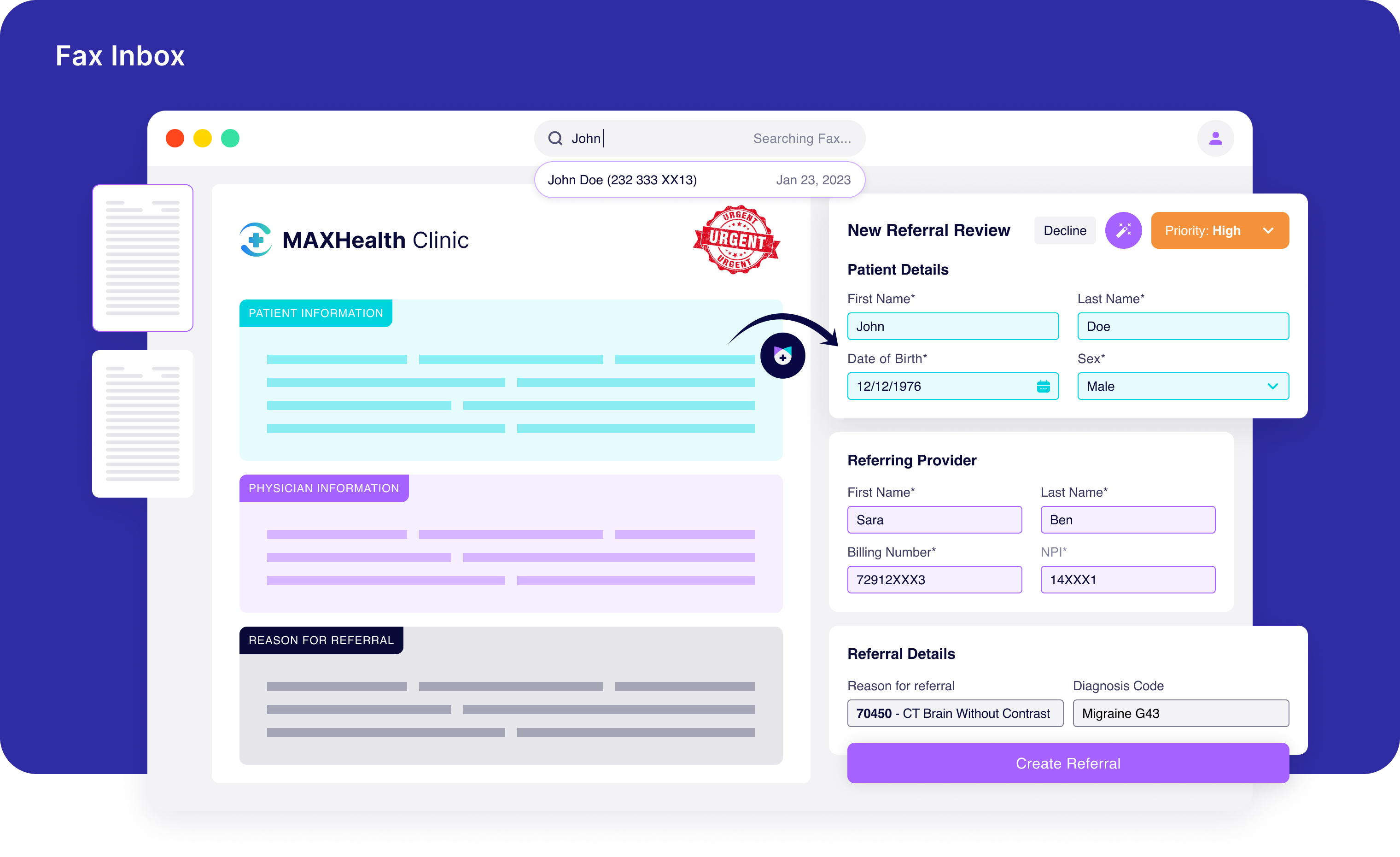 Product Resources • 19 Jun 2023
Webinar: Automate Fax Triage and Management with Phelix
Product Resources • 19 Jun 2023
There is a lot of talk about #axethefax in healthcare, and rightfully so, but the reality is that the volume of faxes/efaxes that most clinics deal with is only increasing. We recently held a...
Experience the power of automation
Start customizing your virtual assistant today, or select from pre-existing primary, specialty, or radiology templated workflows. Get in touch to learn more or schedule a free workflow review with one of our automation experts!